Frequently Asked Questions
How do I know if my order has been processed?
As soon as your order is processed we will send you an email instantly.  If you are unsure whether your order has gone through, please check your email first.
If you have not received an email from us in half an hour then it is likely your order has not been processed.
If you are not completely confident with ordering on the computer then a member of our friendly team can help you through the checkout process.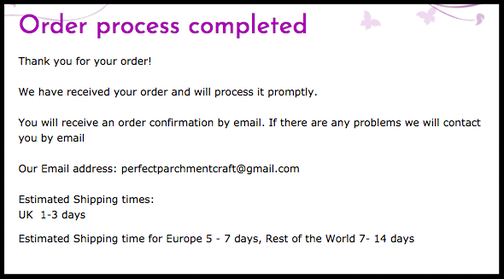 My order hasn't gone through - Do you know why?
There can be a number of reasons why an order cannot be processed:
- Sometimes an order can "time out" for security reasons if you spend too long at the checkout page.  Make sure you have all your details available before you reach the checkout page to avoid this happening.
- Occasionally Paypal will make updates to their system which may affect the ordering process.
- If you are still having trouble ordering, and are using a browser such as Internet Explorer, we recommend that you try ordering with a different browser, such as Google Chrome, Safari or Firefox.
- If you are still having problems, contact us
Do you have a catalogue?
We don't offer a physical catalogue as our prices need to be constantly updated to stay competitive.  
However, if you have a smart phone or tablet (like an iPad) you can view any of our website anywhere you are.  You can even order through your phone as you would do on a computer.
I have a discount code, How do I use it?
If you have a discount code, you can apply this code at the first page on the checkout page.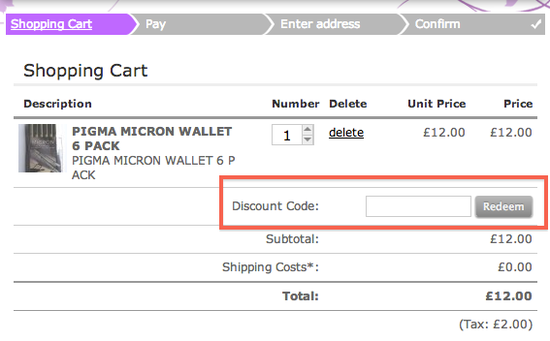 Can I pay by Phone?
Can I pay by cheque?
Yes, you can pay by cheque online, or by post. (UK orders only). Cheques should be made payable to 'Perfect Parchment Craft' and sent to:
Perfect Parchment Craft
85 Berry Down
Combe Martin
Ilfracombe
Devon
EX34 0NU
I don't have a Paypal account can I still place an order?
Yes, you can.  You can pay using credit or debit card.  For more information click  here.